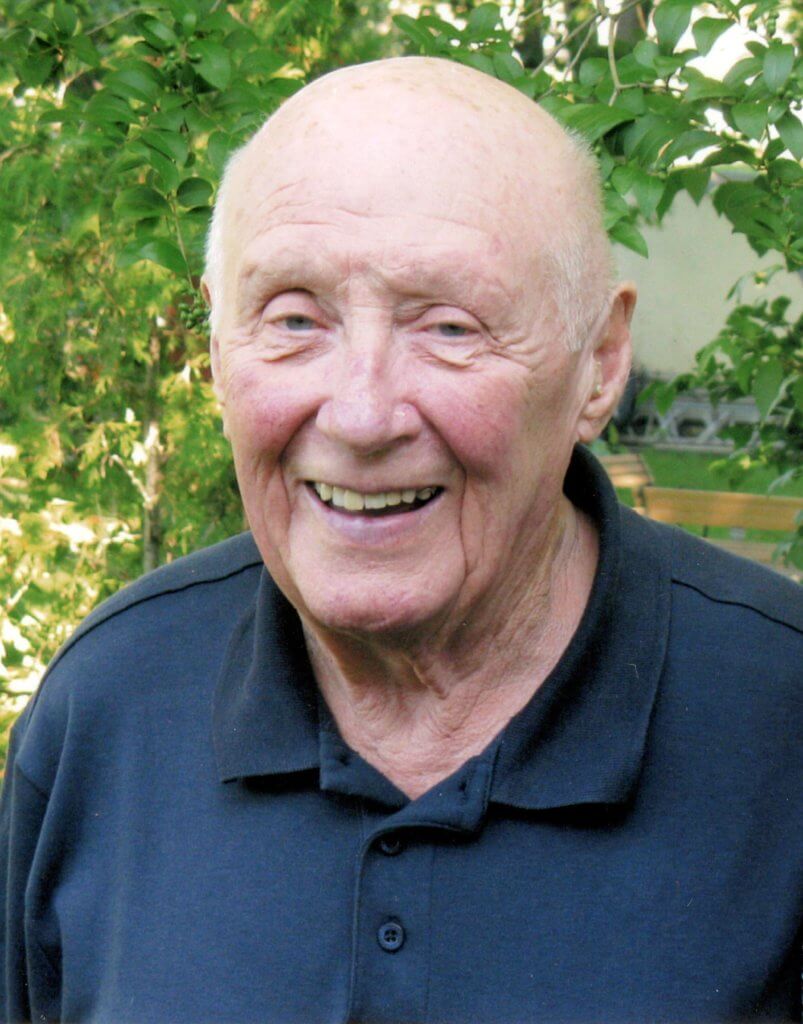 Passed away peacefully at the Southampton Care Centre on Saturday, February 2, 2019 at the age of 84.  Garnet was born in Kimberley in 1934, the oldest of three children and son of Mildred and Thompson Ferguson.  Garnet enjoyed playing sports in school and was a member of Markdale's team when they won the Western Ontario Athletic Association Juvenile C and Ontario Baseball Association Juvenile D championships in 1952.  In 1953, Garnet was hired by Ontario Hydro.  He worked in several generating stations, from Mattawa to as far north as the Abitibi Canyon Generating Station.  In 1957, he was transferred to Niagara Falls to work at the Sir Adam Beck Generating Station.  In 1958, he married Janice Crawford and started his family.  Garnet came to Port Elgin in 1964 when he began working at the Douglas Point Generating Station.  Convincing Janice to move to Bruce County was not difficult as she had at one time lived with her family in Lurgan Beach.  Garnet eventually became a first operator, and in 1974 started working at the Bruce Generating Service.  He enjoyed curling and Sunoco hockey games.  He was a member of the Masonic Lodge in Port Elgin.  After retiring from Ontario Hydro in 1989, he began working on his lifelong interest in researching his family tree.  Through his website, he connected with families across North America and Europe.  He and Janice made trips to Ireland and Scotland to visit cousins and explore their family histories.  Garnet is predeceased by his wife Janice.  He is survived by his sisters Gloria (Norm) Long and Evelyn (Glen) Meads; his nephew Aubrey (Cheryl) Ferguson; his three sons Shawn (Ann), Shannon (Kim) and Matt (Lindsay); and his lovely four granddaughters Sarah, Jane, Taylor and Kaitlin.  Garnet's family would like to thank the doctors, nurses and staff at the Southampton Care Centre for their wonderful care of Dad.  They certainly extended his days with joy, laughter and patience.  Thank you so much.  Thank you to the staff at Elgin Lodge for their care of Dad as well.  You made his life easier.  Also thank you to Dad's coffee buddies from Tim Horton's (and to the staff as well).  When Mom and Dad were still able to attend the daily klatches, you looked after them and surrounded them with friendship.  To everyone who helped our parents in their little way, we appreciate your kindness.  This is a truly wonderful community.  Garnet's family will remember him as a dedicated, caring and patient husband and father.  Cremation has occurred.  Inurnment at Mount Forest Cemetery at a later date.  As expressions of sympathy, donations to the Saugeen Memorial Hospital Foundation or the Southampton Care Centre Resident's Council would be appreciated.  Online condolences may be made at www.greybrucecremation.com.
May you always have walls for winds,
a roof for the rain, tea beside the fire,
laughter to cheer you, those you love near you,
and all your heart might desire.
Condolences for Garnet Ferguson