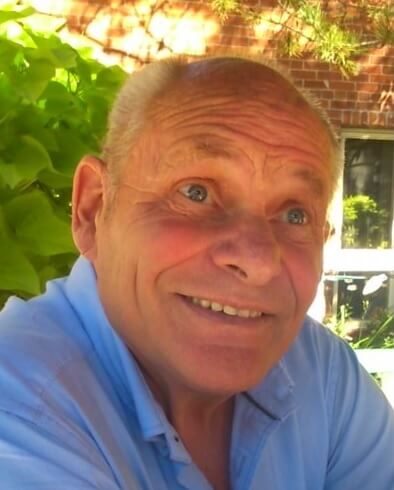 5 Apr 1945 – 23 Aug 2019
Loving husband, father, grandfather, artist, teacher, fisherman, landscaper, traveller – passed much too soon.
Hans came to Canada from Holland in 1968, and leaves a treasured legacy of love and friendship, beautiful works of art, appreciative students, and a wonderful family.
For sixteen years, Hans and Joanna made a special life together in their oasis of peace and beauty.
Predeceased by Doris, father to Rob (Stephanie) Justin (Sam) and Travis.  Grandfather to Skyler, Hayden, Mason, Marley-Jean, Hailey and Austin. Stepfather to Denica (and Mike), Les and Conor.  Grandfather to Andréa and Mitchell.  And don't forget Nugget!  Brother of Flos (Edith) Mars of Rotterdam, uncle of Hélène and Neville.
Hans will be remembered by so many others whose lives were touched by this special man.  Twenty-five years of students at Sacred Heart High School in Walkerton know that "Mister Double O" made a difference.  Many friends, old and new, have a unique memory with a special sculpture or piece of art that ensures his memory lives on.  Whether fishing, coaching/cheering/ playing soccer, turning a piece of land into a wondrous showcase of water and garden, or making works of art from the simplest beginnings – Hans touched everyone whose path he crossed.
He will perhaps be remembered most for his positive and grateful spirit.  When greeted with "Hi Hans, how are you?" he always answered "any better and it would be dangerous" in a booming voice, with an infectious grin, and an open heart.  You knew he cared deeply about his family and friends.  His generosity – in time, energy, conversation, art – was unlimited and treasured.
Every day Hans made it known that he was immensely grateful for everything in his life, and particularly for Joanna, his sons, and his extended family who brought him enormous pleasure and pride.  A life full of adventure, challenges well met, travel, work and even some leisure, Hans knew that he had been uniquely blessed; he shared that opinion often and openly, passionately and with pride.
Cremation has taken place; there will be a celebration of life on Saturday afternoon, September 7th from 2:00 to 4:00 at the home of Hans and Joanna.  Condolences can be left on the www.greybrucecremation.com website.  Closest to Hans' heart was supporting art bursaries at the Sacred Heart High School in Walkerton of the Bruce-Grey Catholic District School Board and the Chapman House – Residential Hospice of Grey Bruce in Owen Sound.  If you wish to make a donation in Hans' name, please do so, or support your favourite charity or cause – he would love that.
To Hans whose spirit lives within me, from Joanna
My darling Hans,
You made each day of our 16 years of marriage the happiest of my life.  At morning light, you woke me with your dazzling smile and a cup of hot coffee.  Together always, we laughed with gusto, travelled and learned and revelled in the company of our friends and wonderful family in this beautiful oasis you created. I felt so very safe and warm in your arms Hans; in your arms only, I could dance. You called me Poops (a Dutch endearment) and promised always to take care of me. You kept me healthy, so very happy and always hopeful.  You cherished me like no other.  Your strength of character, that marvellous positive spirit, genuine gratitude, generosity of heart were admired and appreciated by everyone who came into your life.  We thank you for the very many gifts of caring you bestowed upon us.
I will miss you forever my darling Hans, my rock, my artist, my love.
Joanna
P.S.  Nugget holds you in her heart.
Condolences for Hans Oosthoek