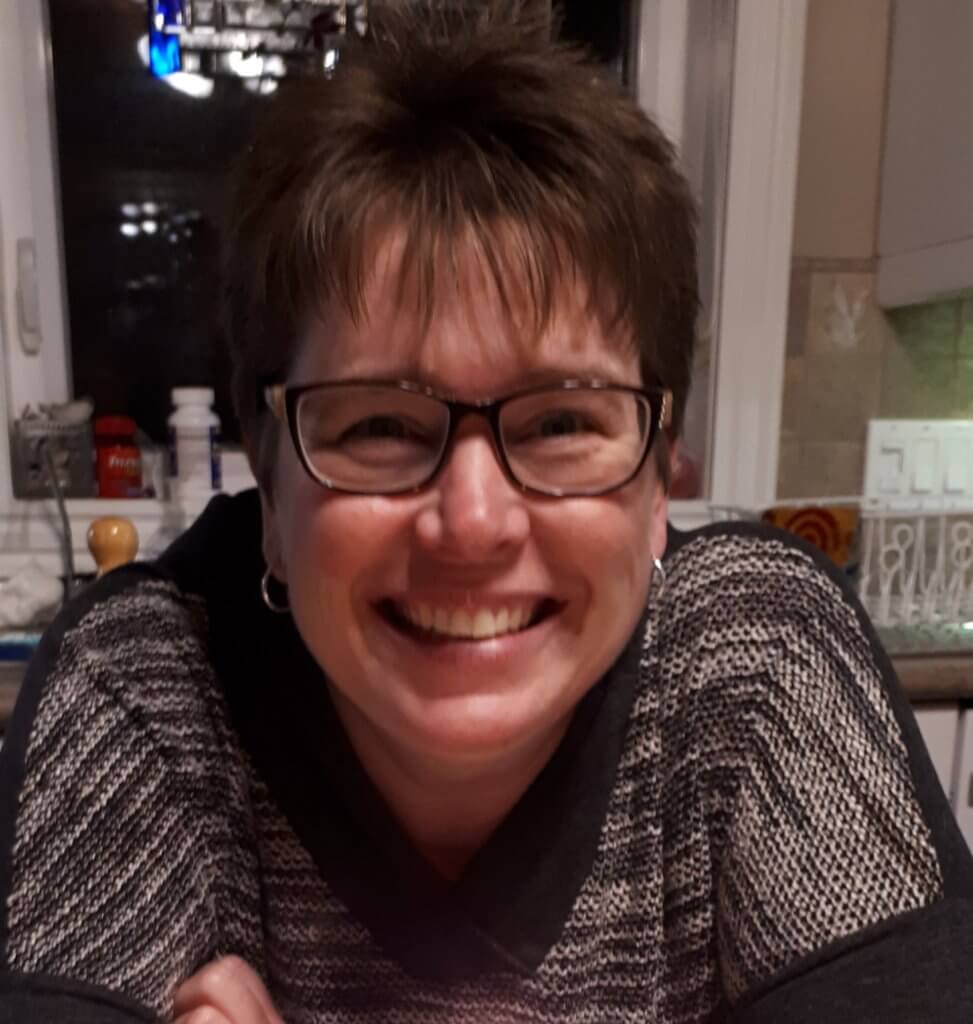 1970-2019
Peacefully and without pain, surrounded by friends and family at her side, as she wanted it, after a heroic battle against cancer that spanned over 19 years, Kelly Ann MacKinnon, of RR#2 Tiverton, Bruce Township, originally from Cornwall Ont., passed away at the Grey Bruce Regional Health Centre – Owen Sound, on Thursday, October 3rd, 2019 in her 49th year.
Forever loved and cherished wife of James MacKinnon of RR#2 Tiverton Ont. for over 26 years.
Dear Mother of Jayson (Chelsea Fuller) MacKinnon of RR#2 Tiverton (at home) and Kaitlyn MacKinnon of RR#2 Tiverton (Orillia – Georgian College).
Forever cherished daughter of Barbara Jamieson (Ron Schwartz) of Walkerton Ont., stepfather Allan Jamieson (Mary Armstrong) of Kincardine Ont., step-daughter of Giselle Derochie of Cornwall Ont. and daughter in law of Betty MacKinnon of Tiverton Ont.
Cherished and loved sister of Carrie Jamieson (Mike Brymer) of Barrie Ont., Bailey (Mathew) Giroux of St. Andrews Ont., Jarett Derochie (Amanda) of Cornwall Ont., and step brother Tim (Mary) Snyder of Long Sault Ont. as well as brother in law John MacKinnon of Tiverton Ont., sister in laws Jean (Carl) Bowen of Belleville Ont., and Anne MacKinnon of Kincardine Ont.
Predeceased by her father Donald Derochie of Cornwall Ont., her father-in-law Robert MacKinnon of Tiverton Ont., her grandmother Hazel Foster of Kincardine Ont., her grandfather William (Fuzzy) Foster of Cornwall Ont., her grandparents Rene and Bertha Derochie of Cornwall Ont., her grandparents Leo and Margaret Jamieson of Ballinafad Ont., her niece Kelsey Hunter of Tiverton Ont. and Aunts and Uncles.
Kelly will be forever remembered by many Aunts, Uncles, cousins, nieces and nephews, great nieces and nephews, friends and coworkers. She was a special "daughter" to her longtime employer and friends Janice and Robin Matchett of Kincardine Ont.. She will also be remembered by her very good lifelong friends who supported her closely during her toughest times, Stacey Dahmer, Julie Collins and Renee Gingras.
Kelly loved her children more than life itself. She was a town girl but after marriage, quickly adapted to country living and often said she would never move back to town for anything. She loved to travel in her camping trailer with her husband and children and dog Lady, and then later her dog Gracey. She was an accomplished bowler, loved ladies slow pitch and her friendships with her teammates. She loved sunflowers, campfires, country music, hummingbirds and was especially fond of all the "little ones" in the family as they were born and began to grow. Kelly was extremely proud of her job as a Licensed Financial Assistant and Tax Preparer. She took great pride in her work, serving her customers and contributing to the success of that business. Kelly had extended family across Ontario and loved them all.
As per Kelly's wishes, she has been cremated with interment to follow in Tiverton Cemetery.
A Celebration of Life for Kelly will be held at the Underwood Community Centre, 1240 Concession 6, Underwood on Saturday, October 26th from 1 – 5 p.m.  Family and friends are invited to come and remember her with stories and memories of her life.
Donations in memory of Kelly may be made to the Huron Shores Hospice, Tiverton Ont. or a charity of your choice would be greatly appreciated.
Online condolences may be made at www.greybrucecremation.com.
Condolences for Kelly MacKinnon