Alexander "Joschi" Muendel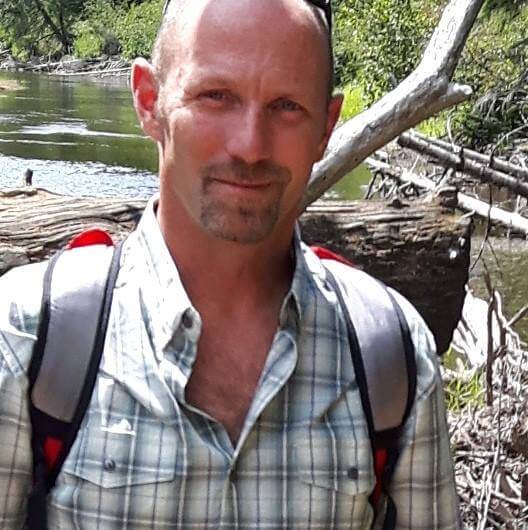 ALEXANDER "JOSCHI" MUENDEL died on August 28, 2021 in his 50th year. Survived by his son Isaiah, his parents Chris Muendel (Stephanie) of Peachland, and Lynne Gordon Muendel (Mark) of Kamloops. Also survived by his siblings Karl (Allison) of Nanaimo, Heidi of Kamloops, Toni (Alice) of Vancouver, and Maya of Peachland. Predeceased by his son, Liam.
Alex will be missed by his nephew Oliver, his niece Aurelia, his Godson Oliver as well as many aunts, uncles, cousins, and friends.
He will be fondly remembered and dearly missed by his best friend Curtis.
Alex was raised in Kamloops, British Columbia and spent many summers during his youth and early teen years in Oliver, BC, working with his Grosspapa and Grossmama at their family orchard.
His family spoke German in the home until Alex began school at the age of 4, and with many opportunities to practice with his grandparents as well as at Muendel family gatherings, Alex grew up fully bilingual.
In his teens Alex moved to Vancouver Island and trained as a sous-chef before returning to Kamloops where he had a memorable wedding yet brief marriage to Kerrie and began his life as an entrepreneur and co-owner of The Grind, a coffee house and community hub filled with live music, great coffee, excellent food, and legions of friends.
It was here that Alex met Kiera and in 2002 they welcomed their first son, Isaiah. Fatherhood meant everything to Alex and after a period of time working as a rock scaler, Alex began the next phase in his career as a building contractor. It was this work that took his family to Kelowna where he and Kiera had their second son, Liam who passed away a year later.
Following Liam's death, Kiera and Isaiah returned to Kiera's home province of Ontario and Alex soon followed.
Living in Owen Sound and spending time with Isaiah, it wasn't long before Alex made a name for himself as a skilled carpenter and built a successful home renovations company.
In 2016 he met Andrea and moved to Wasaga Beach, expanding his client base to Blue Mountains, Collingwood, Wasaga and beyond.
He moved back to Owen Sound earlier this year.
Alex will be remembered as a skilled craftsman with a passion for creating places and spaces his clients could call home. He was a sharp dresser and an exceptional cook who loved to entertain family and friends. Watching Alex prepare a meal was like watching theatre, and just like any good stage production, it needed an entire crew to clean up afterwards.
He had a passion for music, art, and chess. He loved motorcycles and nature, and was ridiculously intelligent with a seemingly insatiable thirst for knowledge. His own journey of healing and self discovery spanned a great many years and inspired a great many others. Alex was a fierce protector, a daring spirit, and a humanitarian through and through. He loved unconditionally and judged no one ever.
A service to celebrate Alex/Joschi's life and legacy will be held in Tara, Ontario on October 3, 2021. Due to COVID restrictions, attendance is limited so in addition to streaming the service online (link TBA) we are asking anyone who wishes to attend in person to RSVP to merriamkiera@gmail.com by September 19, 2021. Please include your full name(s) and telephone number and we will confirm with you as quickly as possible.
Memorial donations to G&B House in Owen Sound (cheques payable to "CMHA Grey Bruce" and on the Memo line note "for G&B House") or to a trust fund for Isaiah in memory of his dad (cheques payable to "Kiera Merriam in trust for Isaiah Muendel") can be made through Grey Bruce Cremation Services by calling 519-371-8507 or 1-877-991-9995.
Condolences for Alexander "Joschi" Muendel