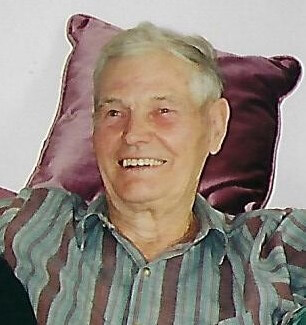 Peacefully passed away on October 30, 2021 at the age of 98 at Pinecrest Manor in Lucknow.  James was born in 1922 in Brower, just east of Cochrane, Ontario.
He was a very kind and gentle man who loved the outdoors and always worked, even from a very young age, to provide for his family.  Being the oldest of five, when his father was called to war, James stayed home to look after the family and the farm at the age of 15.  He would be on a large wagon being pulled by oxen bringing wood from the bush or a wagon with a team of horses hauling blocks of ice that was cut and stored for the CNR trains.  At the age of 18 he was working as a linesman, climbing up the poles to fix the lines.  His pay was $13.00 a month and they lived in empty box cars.
When James married in 1946, he and his new bride Lula moved from Cochrane to Rushhome Road in Toronto.  He worked at the tannery trimming hides for 56 cents an hour.  He left there to work as an operator for the TTC streetcars.  Leaving the city to move to the outskirts of Toronto, James worked at the Malton Airport on the ramp gassing up the planes and loading and unloading planes.  From there he became an airline service driver for the airport for 10 years. Leaving Malton he moved north to the Neustadt area and continued working in various jobs in construction.  At the age of 82 he quit working and received his final pay cheque.
He will always be remembered for his kindness and always, always with a huge smile on his face.  Beloved husband of the late Lula (nee Bell). He was a loving father to Sharon McElroy, Gary Whitefield and Barry Whitefield.  Grandfather to Sean, Sabrina and Byron McElroy and Oscar, Sam and Lee Whitefield and great grandfather to 9. Arrangements entrusted to Grey Bruce Cremation and Burial Services, Owen Sound.
Condolences for James Whitefield