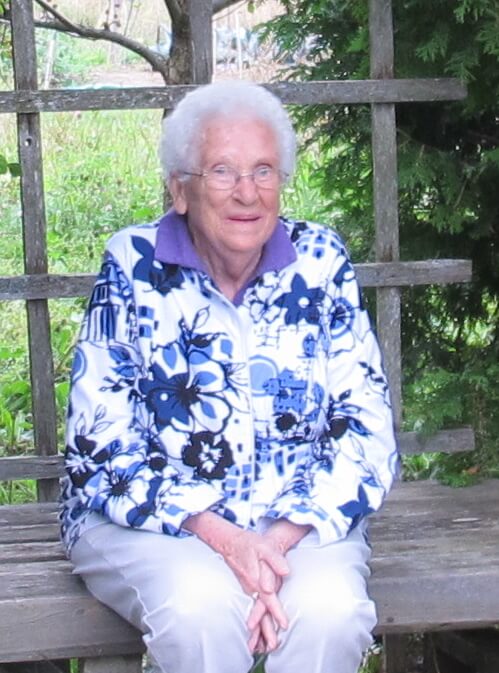 Just short of her 93rd birthday, and feisty to the end, Lois Marie MacLean passed away on June 13th  2020. A ceremony to celebrate Lois will take place at a future date.  For now here are few things those lucky enough to have known her will remember her by.
Born in 1927, Lois grew up on a farm north of Kincardine, and walked the two miles into town and back more times than could be counted. She and her brother Donald were taken in at a young age by their aunt Olga and uncle Lawrence, joining their cousins Donna, Walter, and Bruce in a Depression-era childhood. Based on their stories, it may have been short on money but was rich in summer afternoons at the beach and featured an interesting cast of characters for neighbours.
Lois had many jobs in her life, including working for the Circle Bar Knitting Company and the Kincardine Dairy. She spent most of her working life as manager of Finchers and as a result she knew virtually everyone in town.
Never one to turn down anything chocolate, she didn't profess to be a cook and proudly displayed a picture near the stove that said "There's only a kitchen here because it came with the house".
She loved cats (maybe as much as people), and children were always important to Lois. Every one of her nieces and nephews (and great nieces and nephews) were on the receiving end of her generosity.
She played cards, drank coffee, argued and laughed with her friends and neighbours Vera, Harvey, John and Gwen, Christine, Marg, Margaret, Mildred, Wilbur and Wendy (among many others).
A diligent reader, she could be relied upon for being up to date on the both latest biographies and the most recent editions of Vesey's plant catalogues.
Lois epitomized independence. Like many of her generation, she believed it was better to get on with things rather than complaining about them.
Lois never missed a Saturday night bagpipe band parade, and especially loved Old Boys Reunions and the last parade of the year. She looked forward more than she would admit to hosting the entire family in a house that was a little too small for everyone to fit – that was half the fun.
She loved her garden and anything in nature, and always remarked on the changing of the seasons. Never a fan of winter, it's fitting she left us just before the summer solstice, when she could still look forward to the days getting longer.
Lois was predeceased by her parents, her brother Donald, and her cousins Donna and Walter. She will be missed by her family: Bruce and Joan MacLean, Robert and Cindy MacLean, Darren and Krista MacLean, Maxine Thomas and Dean Thomas, Kathie and Jim Donaldson, Kathy Kelly, Donna MacLean and Scott MacLean, and many friends and neighbours.
If you wish, donations to the Kincardine Food Bank in memory of Lois would be appreciated.
Arrangements entrusted to Grey Bruce Cremation and Burial Services 519-371-8507.
Condolences for Lois MacLean