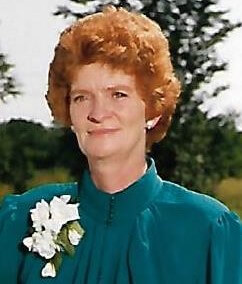 October 4, 1943 – August 24, 2020
Sherryl took her flight to be with the Lord at her special place with her girls by her side. The world lost a good woman in Sherryl but God received a great lady. She was the loving wife of predeceased Donald Tower of 57 years. She will be sadly missed but forever remembered by her daughters Casey Tower and Darvey Liedtke (Danny); her grandchildren Jessee Masaro (Steve) and Jared Liedtke (Melissa); and her foster children Steven, William and many other foster children. She will also be remembered by many family members and friends. Sherryl was born and raised in Toronto. This is where she met the love of her life. She is predeceased by her parents Roy and Evelyn Baker. Sherryl worked for Christy's and Canadian Wall Paper. They relocated to the Grand Valley area where she worked at Symplastics in Orangeville for many years as a lead hand as well as assisting on the farm. Following that they moved to Ayton. Her passion was her family and her role as a Nanny. She loved spending time with her girls, her grandchildren and her family. She loved gardening, sewing, quilting, baking and arts and crafts. Her hands were rarely still. No project was so great that she would not take on, even if it meant taking down a wall in the house. Her life was filled with compassion and love. There is not one word that could be used to describe Mom as she was so much to so many. She was always helpful to people; some she knew and some she didn't know. An example of this is she often gave money to the homeless. Our mother was a teacher of all things. Her method was simple. She taught by example and if you did not get it she did not let up until you did.  She taught us never lose sight of the end result. Her dedication and commitment were beyond words. These words were never so true, for Mom was a woman who let nothing stop her from living life to the fullest. Even in those last years of her life battling Vascular Dementia she was still able to give you the "Baker look". Mom was a Christian lady who had a strong will for her faith. Her life was a living example of the Bible verse, Ephesians 4:32- "And be kind and compassionate to one another, forgiving one another, just as God also forgave you in Christ".
Dear Mom:
Gods Garden
God looked around his garden
And he found an empty place,
He then looked down upon this earth,
And saw your tired face
He put his arms around you
And lifted you to rest
God's garden must be beautiful
As he always takes the best.
To the Very Best Mom:
Thank you for a lifetime of loving us, believing in us and for putting our hopes, our dreams, and our needs ahead of your own. We want you to know how deeply you were appreciated. Thank you for being the very best mother and friend in the world.
May you take comfort in knowing there is one more angel above us?
In lieu of flowers, she would ask you to appreciate and embrace nature of all kinds. That you spend time with your children or help someone in need. A leaf will be donated to the Memorial Leaf of Life Program in her memory. Very special thanks to Sharon, Dawn and Maryanne. We could not have done this without you at our side, for that we are truly blessed. And we would like to also extend our thanks and appreciation to all the medical services with the LHIN Program. Honouring Mom's wish, a private family celebration of life will take place at a later date due to Covid.
Online condolences may be made at www.greybrucecremation.com.
Condolences for Sherryl Tower