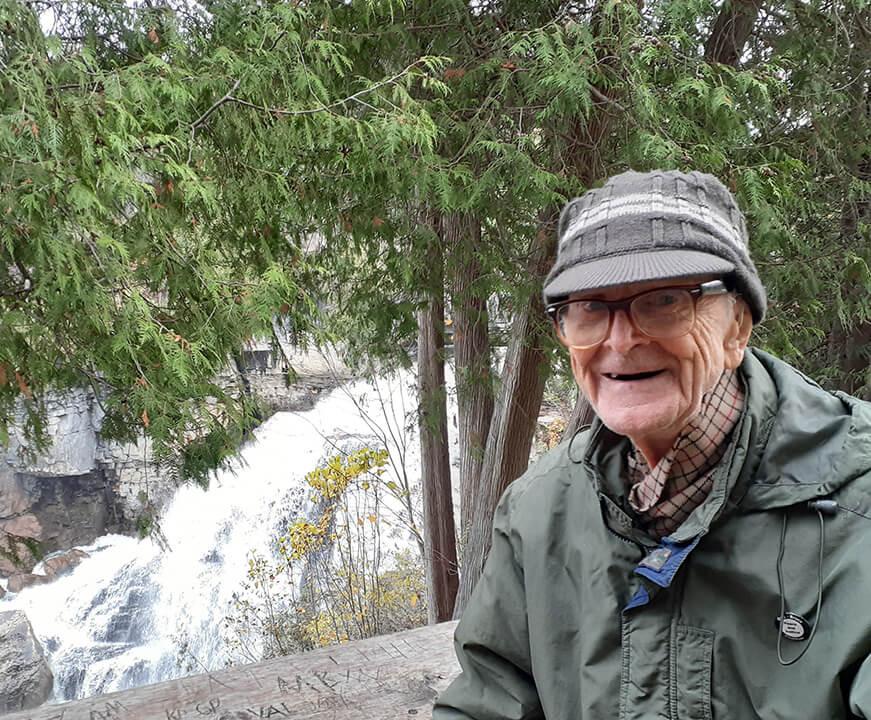 Donald Earl Willmott, PhD, died peacefully in Owen Sound, Ontario, on May 10th, 2021, having lived to celebrate his 96th birthday and 70th wedding anniversary with his wife, Elizabeth Ann (Herrmann) Willmott. Don was born on April 2nd, 1925, in Renshou, China, to educational missionaries Lesslie Earl and Mary Katharine (Geyer) Willmott. He grew up on the campus of West China Union University in Chengdu, Sichuan, where he was instilled with his lifelong calling as a teacher. During World War II, his service as translator for the United States OSS (Office of Special Services) behind Japanese lines in China became defining years for his unswerving devotion to peace and democracy.
In 1945, Don moved to North America permanently for the first time. He received his BA from Oberlin College (1950), MA from University of Michigan (1951) and his doctorate in Sociology and Southeast Asian Studies from Cornell University (1958). He was a pioneer in diaspora studies and applied sociology. His doctoral research on the Chinese in Semarang was among the few dissertations to be published at that time. In 1956, Don became the first sociologist at Memorial University of Newfoundland, with a co-appointment as an Advisor to the Department of Social Welfare. After working briefly for the Center for Community Studies in Saskatoon, he was appointed at the University of Toronto, and then settled into a professorship at Glendon College of York University until his retirement in 1990. He taught the first course in Canada on Environmental Sociology, drawing inspiration from his research on the Three Gorges Dam in China. Passionate about teaching, he trained several generations of students to become socially conscious citizens in his courses on small group organizations and Asian Studies.
Throughout his life, Don was an organizer and activist, contributing his considerable talents to both local and global grassroots initiatives. A favorite saying of his was "think global, act local"! Devoted to the people and culture of his homeland China, he co-founded the Canada-China Friendship Association. In 2014, he was awarded the YMCA Peace Medallion. As a son, brother, husband, father, teacher, mentor, colleague and fellow human being, Don was known for his vibrant enthusiasm, optimism, warm-hearted personality and willingness to help. He loved listening to and playing music, gaining proficiency on several instruments and singing perfect pitch harmonies. He was a naturalist, woodsman and Mr. Fixit.
Don was predeceased by his parents and brother Dick (Jill). He is survived by his wife Elizabeth, sister Margaret Joy and brother Bill (Diana), his sons Ken (Zhihua) and Glenn (Yaël Schlick), daughter Cory Willmott (Kristen Taylor), and grandchildren Jessie Silverstein (Chris Cherry), Amber, Sabina, Daniel Schlick and Eric, as well as step-grandchild Dylan Taylor (Natalie). He will be missed by all who knew him. Arrangements are made by the Grey Bruce Cremation and Burial Services. Condolences to the family can be made on their website. In lieu of flowers, contributions can be given to one of Don's favorite causes, The Suzuki Foundation or Ecojustice Canada.
Condolences for Donald Willmott