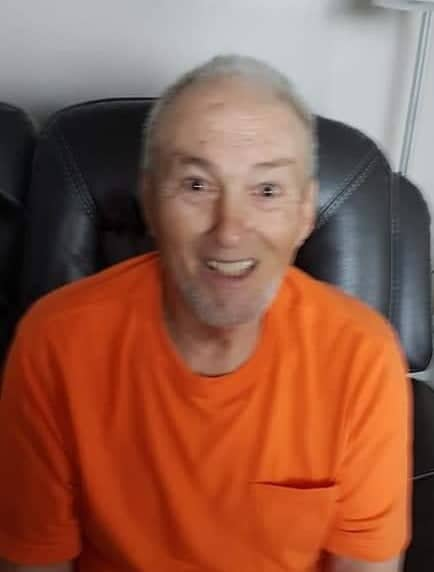 Freddy (Fred) Joseph Paul Robinson, 74 years, born November 23, 1946 passed November 4, 2021. He put up a strong fight battling with cancer for five years, but succumbed to it. He had his loved ones by his side during this time. Fred lived in Durham, Ontario.  He was a caring and loving husband to Karen-Lee.  Beloved father of three children, five grandkids and six great grandkids.  Fred was loved by many. He was the type of man who went above and beyond to help others. Fred was the "go to" guy for repairs, parts, help fixing something, etc., tinkering with small engines, or fixing something in his garage was something he seemed to enjoy, Fred loved the outdoors, so you could always catch him in the yard or garage.  Fred was a very strong, hard working man. He worked in the Grey/Bruce area for many years doing various jobs. During this time, he made many friends along the way.  Many of you know Fred (aka: Dad), was an avid hunter and fisherman.  Hunting and fishing were his passions and he passed on this passion and knowledge to myself and others. Fred was always happy and willing to tell stories of his adventures or pass along tips to others.  He has helped many people with many things over the years and believed it was always the "right thing to do". He would give the shirt off his back. Fred was a very humble and proud man.
Fred is survived by his wife Karen-Lee Robinson (Cartwright), oldest son David Paul Robinson (David's partner Tammy Wade), daughter Cynthia Joy Robinson (Cynthia's partner Jamie Ball), youngest son Thomas Howard Robinson (Toms partner Dawn Barger), grandkids Amanda Waugh, Jennifer Robinson, Jonathon Robinson, Rebecca Ruelens and Xavier Robinson and six great grandchildren.  Also survived by his brothers Jerry Robinson and Andy Robinson.  Predeceased by his parents Howard Paul Robinson and Noella Alice Robinson (Desjardins) and siblings Jean Duguay, Bobby Robinson, Raymond Robinson and Orielle Robinson.
Service will be at the Flesherton Kinplex, 2 Highland Drive, Flesherton on the 20th of November 2021 from noon to 4 p.m. Food and drinks will be available. If you wish to send flowers you can send to the address above (Flesherton Kinplex) the day of service.  Arrangements entrusted to Grey Bruce Cremation and Burial Services.
Condolences for Freddy (Fred) Robinson